Christians love to talk about adoption. And, more often than not, this is what's going through my mind most of the time when they speak.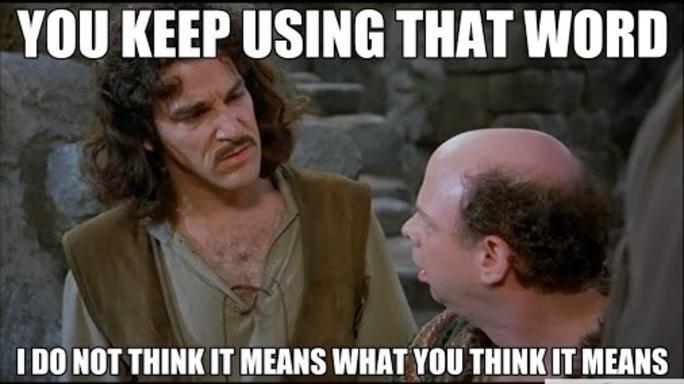 The reason? We tend to equate adoption with salvation.
Let's back up a little bit. Romans 8 and Galatians 4 both speak about our adoption as sons & daughters. There is beautiful truth in that we have been grafted into the family of God not because of some biological right, but purely by the grace of God bestowed on us through no action of our own. This is absolutely true. But it is not the full picture.
Here's why: When we take the language of scripture and then apply it to modern adoption as if it's a 1:1 correlation, we make adoption always pure, always saving, and always good news.
The first problem with this? It turns the adoptive parent into a Savior who rescues the broken child. I can't tell you how many people have thanked us for "taking in our poor children." It turns my stomach every time.
And that's reason enough to re-think things…but I'd like to talk about something even deeper. As the mother of two beautiful children brought to us through adoption I can tell you this with confidence: Adoption is not good news.
Before you protest let me explain myself.
You cannot have adoption without loss. So from the beginning adoption is a sign that something has gone terribly wrong. God did not create families to break. But when they placed my 10 day old J in my arms that's just what happened, a family was broken. When we left the hospital with my E, we left a family broken behind us.
Adoption begins in loss. It's bad news from the beginning. There's no way around it.
When the paperwork is finished and the adoption becomes final it doesn't end the brokenness. Sure, that child and I belong to each other forever, just as if I had given birth to them. And there is beauty in that. And there is grace in that.
But they leave a family behind them (for whom that day brings great sadness), and they bring their loss and their brokenness with them to join it up with mine. You see when families are broken, when trauma takes root in a child's soul (whether they are a newborn or 13 years old), the court date isn't enough to undo it.
Adoption begins in loss, and it lives in a constant tension of brokenness and wholeness, pain and redemption, completeness and fractured-ness. Adoption is not good news.
Except that it is.
Before you think I'm crazy, I'll explain.
When Jesus was born into this world all of creation groaned for his arrival. Why? Because our God had not created a world in order to break it. But when sin entered the world, that's exactly what happened. Which means from that moment, creation has been longing for its redemption. In Romans 8, we see that all of creation groans for the Savior. When that Savior arrives, the physical creation rejoices. And beauty came to dwell.
Here's where the tears usually come for me: Everyone was expecting that the arrival of the Messiah would completely erase all that had been broken. It would hit the reset button and begin it all afresh. It would erase sadness, sin, and death.
Except that's not how it happened. Jesus, instead, showed up as the light in the midst of the greatest darkness. He didn't take away all the pain, he entered into it. And that's an important part of the redemption. Any God could just hit a reset button. Our God, chose to enter the chaos and the pain, so that he could heal us, redeem us, restore us.
This, this light in the midst of brokenness, but still brokenness because it hasn't been completely fixed yet, thing…this is where I think we find the deepest meaning of adoption.
A few Christmases ago I bought this wooden sign that simply says Peace. I got it on sale at Target, so it was hardly an intentional purchase.
Every year I bring it out and it's a lovely addition to our holiday décor. But this year, when I pulled the word out it meant something different. This year we are living right smack in the middle of one of our children's brokenness. The details of that struggle aren't for public consumption, of course, but the reality of living in a small apartment with a kid who struggles…well it means that the last few months we've lived in sort of a constant state of chaos. The kind of chaos that results from deep feelings that can't even be articulated. The kind of chaos that results from anxiety and internal pressure. The kind of chaos that makes you question all the things.
As we have lived in the chaos and in the constant fight, I have yearned and longed for peace. Not a peace that erases, but a peace that enters right smack in the middle of the mess and begins to spread light. Because I know that's what my child needs: to be walked with towards healing.
Advent is the promise of wholeness even while we are broken. Advent is the anticipation of the savior of the world even as we're crying.
Adoption is good news not because it re-writes and erases history but because it announces redemption in the midst of it. Not in a white-savior-I'm-going-to-make-everything-okay way, but in a "you're broken, I'm broken…let's look to Jesus and find his wholeness together" sort of way.
Our children's stories are complicated. They are full of birth families who loved them, who wanted the best for them. But they are forged out of brokenness that made those families unable to care for them.
Many of our friends parent children who were forged by abuse they received at the hands of the people originally intended to love them best.
Adoption always begins in loss. Advent always begins in brokenness.
But, by the grace of God, we can join with creation and groan for the redemption that only Christ can give.